Everyday, we try to make our users' Adowrds reporting easier. We continue with our posts about all the sunnyreports' features. I am going to talk today about the one allowing to create a full Adwords report in one click.
Copying an Adwords report
To be able to use this feature, you have to have at least one sent report. You can find them in the tab "My reports" >> "Sent".

At the end of each line, you will find the read status and the available actions.
"Hide" allows you to hide the current report from the list. It's interesting if you have for example sent a test report and you will not use it in the future. You could always show it again by clicking on the "Show hidden reports" button at the top of the page.
1. Button "Use it"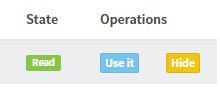 To copy a report, click on the blue button. You will be redirected to the report edition page.
2. Automatic data update
The report has been copied with exactly the same period and data.
You just have to modify the title of the report and the period of the report. All the section will automatically be updated with the new data.

The idea is to reuse all your work, for example the previous report you did for a client.
3. Modify the report and/or add your analysis
Once all the sections have been updated, you can modify your analysis on all the different metrics (conversion rate, impression share, devices repartition graphs, …)
You can still modify a section, add one, remove one.
4. Send the report
Once finished, all the delivery data are already filled: your email and the recipients.
With this feature, you can create a custom report with your analysis in minutes.
Just watch this video to see again the process:
Schedule Adwords reports
For those who want to go faster, we have recently released the scheduled reports. Here, everything is automatic. No possibility to modify the report or add a custom analysis. There will be a post on this feature in the next days. Stay tuned !
Don't forget to check our other posts about the PDF and XLS reports you can add to your email.