We are happy to announce the release the new PDF feature in SunnyReports, a feature awaited by many of our users. We take care to do it with the simplicity you love in SunnyReports.
It allows to add the copy of the report in PDF for an easy archiving for example.
How to add PDF file to a report?
We add a checkbox just before the recipient field in the edit report page.
To add a PDF file to the email, just check the box.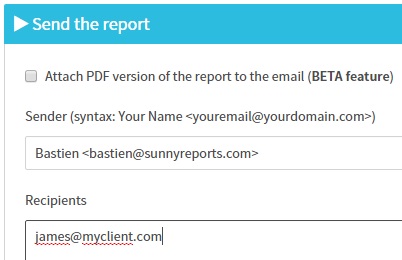 No need to check/uncheck the box every time you send a report. The state of the checkbox is kept when you reuse a report.
What is the design of the PDF ?
The PDF file is actually the exact copy of the report sent by email in a "portrait" format. We will add several other enhancements in the future.
Where to find the PDF archived ?
We also add the possibility to download a PDF file of an archived report.
Go to the "Reports" tab, click on a report and go to the "Preview" tab. You'll see a link allow to download the PDF file.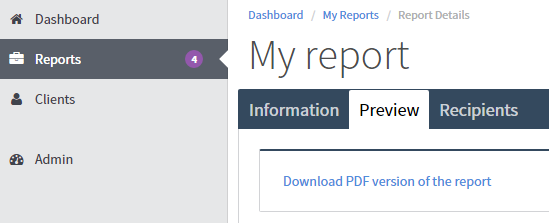 The PDF beta feature is already available on all accounts. We are hungry of your feedback.