A few days ago, we released AWQL.me, a free tool to simplify the way you write an AWQL query and see the result.
We are happy to release a new feature: you can now download the results in two formats: CSV and XML.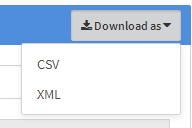 You just have to select which format you want for the data and the file is downloaded automatically.
You can now write, check and test your AWQL queries and retrieve the Adwords data for a further exploitation in Excel for example.
Feel free to drop us a line with your feedback or to request a new feature. Have fun!