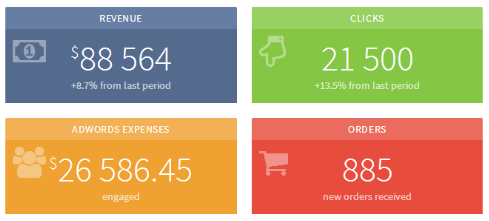 Being a freelance Adwords manager, I have experienced that Customer Reporting is the key point. Optimizing my clients' campaigns is my job. But what does optimization mean? Does it mean 10% growth every month; fewer clicks and more conversions; lower the CPC (Cost Per Click); increase the CTR?
My clients don't know my daily job
My clients hire an Adwords manager thinking that doing so, they optimize their budget. But being no expert in Search Engine Marketing, PPC ads and Adwords, they have no idea of the daily activities I perform for them.
I spend most of my time sitting at my desk in front of a couple of monitors displaying data tables with $ and %, adjusting one bet here, adding ten keywords there, splitting Adwords group, etc. Does that sound familiar?
My clients only know on a monthly basis whether or not they are making more revenue with fewer budgets. They are not informed that thanks to my hard work their revenue stays stable while the market is getting more and more competitive or is decreasing.
Thanks to better reporting
Better reporting provides my clients with all the information to better understand how their money is spent. My best practice to succeed: I include their Adwords Budgets reporting and my activities reporting.
From the start, a transparent contract provides the details of the activities I perform for my clients. I keep a recurrent communication with my client regarding terms of search, budget, new thematic, market/customers, etc. Depending on my client's needs, I deliver a weekly / bi-monthly / monthly Adwords reporting.
Better Adwords reporting display performances with Adwords statistics depending on the campaigns AND provide detailed explanation about my activities with my analysis and what course of actions to take.
Better Adwords report details need to be customized to each client's specifics.
Adwords reporting standard details would display for example:
Main KPI overview (conversions, clicks, expenses, …),

Comparative analysis on the account or campaigns,

Général analysis on the account or campaigns,
Clicks and conversions evolution on the period,

Geomap for a quick display of customers localization,

Best keywords statistics table,

Detailed analysis on a critical point and/or recommandation as needed (i.e. landing pages).
With optimized format
Optimized format makes reports look beautiful. It enlightens statistics and it eases reading. My reports look more professional and that's exactly what my clients are expecting.
Optimized format, including colors in the digits and line charts, makes reporting more consistent and clear; my clients are more receptive to my analysis.
Optimized format shows my clients that I do care for what I deliver. That is most surely part of why overtime some new clients became old ones and prospects are becoming new clients.
And more efficient automatic reports generation
Automatic reports generation frees me from most of the main chores of reporting generation: retrieving data from csv, inserting it in Excel, creating charts, pasting charts in Word, saving Word as PDF.
Automatic reports generation is more efficient as I often use for a client the same statistics from one period to the other. Once the reports are generated I spend my time smarter, adding real value to the reporting, including my analysis, updating a section, etc.
Automatic reports generation makes me happy about my job and it makes my clients happy knowing that the time I saved on generating their reports was used on their campaigns.
Conclusion
Adwords reports helps me adding value to my work. Do not give up on reporting, your clients will not forget about value added.